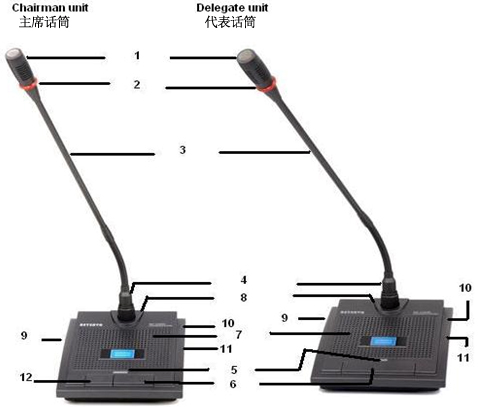 1.Microphone head: do not hold the microphone head when speaking.
2.Microphone head ring: shows the microphone working status. Indicator on means the microphone is on operating status.
3.Hose: to adjust the direction and height of the microphone.
4.Fixed microphone boom connectors: can not be plugged.
5.Microphone speaking indicator: red indicator on means the microphone is on working status. Press the speaking button, if the green indicator in on, means the speaking is limited; if the green indicator is off, means the microphone is off.
6.ON/OFF speaking button.
7.Loudspeaker: when the microphone is on, the loudspeaker will be off automatically to avoid the feedback.
8. Female connector for connecting the next microphone, 2.1 meter cable for connecting the previous microphone.
9. Lapel microphone interface.
10.Earphone interface.
11.Volume control knob.
12.Chairman priority button.